Hey everyone!
Halloween is coming up soon. I am so excited. Halloween is my favourite holiday I think maybe even more than Christmas. One of my favourite things about Halloween is for sure the scary theme it has and all the movies that come out around this time. So, I decided to share with you guys some of my favourite scary movies to watch with Halloween coming up.
I decided to share of my cult favourites and some that scared the bejesus out of me. I have a good round-up of all the movies that you need to watch right away if you haven't already. So let's jump right into it.
Halloween Town Series
So, I thought I would start off with one of my ultimate favourite movies of all time. I have loved this series since I first watched it on Disney channel. This is a classic. I love every single movie in this series and I watch them on repeat during this time of year. I also on the lookout to buy the movies, they are like impossible to find for some reason. If you haven't seen this movie where have you been? If you like Harry Potter than you will love this movie. The world is so fun, and the humour is cute. They are for children keep in mind but it's still a movie I love to this day.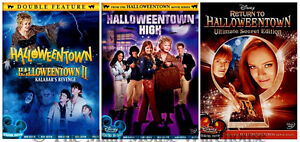 The Terrifier
This was a horrible suggestion from my boyfriend one night when he wanted to watch a scary movie. See this movie didn't scare me but did at the same time. What is supposed to be scary in the movie like the brutal murder and violence was eh. The last few minutes of the movie, wtf?! His creepy ass smile had me done. If you're looking for something on Netflix that you will think isn't that great and kind of just weird this is the one. The ending will probably freak you out too. I am not easily scared by scary movies though, so this could possibly be scary for other people especially if you hate clowns.
IT
I know this was a last year movie but it's a classic to me. IT will always be that scary clown movie that everyone hates. Stephen King is an amazing writer, I love his work and I almost always love the movie adaptations of his books. There is both an older version and newer version of this movie. They are both fantastic and if you're looking for a classic that has a modern twist I suggest checking out both of the movies. Again, this is a scarier one on the list, so if you hate clowns, again this is not for you.
Casper Meets Wendy
Another kid movie because I am a small child a heart. Casper is the cutest ghost I have ever seen. This was a movie I always was excited to watch when Disney channel would play it. If you're looking for a lighthearted fun movie to watch either by yourself, with a friend or boyfriend or with kids this is the one. It is the best family movie by far. It's also a throwback with Hilary Duff starring in it.
The Scream TV series
I know this isn't a movie, but I thought I would add it to the list anyways. If you don't know the icon Scream movies than this many not mean much to you but Netflix rebut the series but as a TV show. The TV show came out last year and I love it. It doesn't follow the same pattern as the original Scream movies from what I remember but it is a really good show independently. If you like creepy mystery shows like me then this is perfect for the Halloween season.
So, these are my top five recommendations to watch before Halloween this year. I have a bunch of other special mentions like the new Sabrina The Teenage Witch series coming out later this month. I can't recommend it yet because I haven't seen it, but I have a feeling it's going to be so good! I also want to mention, all the Saw movies, Hocus Pocus,  Chainsaw Massacre (Which is getting a reboot), Halloween, and even Harry Potter.
If you have any suggestions that I missed I would love to hear them. I love finding new Halloween movies to watch and I am always growing my list. If you love any of these movies on this list, make sure to comment down below.
I will see you guys tomorrow!
You can find me here! Also, make sure to subscribe to my emailing list!!
Instagram | Twitter | Facebook | Youtube | Pinterest